Biographical entry

MacDonald, James Stuart (Jimmy) (1878 - 1952)
Born

28 March 1878
Carlton, Victoria, Australia

Died

12 November 1952
Melbourne, Victoria, Australia

Occupation

Art Critic, Artist, Gallery Director and Writer of Inscription
Details
James Stuart (Jimmy) MacDonald was an artist, art critic and gallery director. Born in Melbourne of Scottish heritage, MacDonald was a friend of Robert Menzies and a member of the Savage Club. An outspoken opponent of modern art movements, he was the director of the Art Gallery of New South Wales (1928-1936) and director of the National Gallery of Victoria (1936-40). MacDonald was a member of the Commonwealth Art Advisory Board from 1947 to 1952 (and chairman in 1949).
Sources
Commonwealth Literary Fund. Helping Literature in Australia: The Work of the Commonwealth Literary Fund 1908-1966. Canberra: Commonwealth Government Printer, 1967.
Serle, Geoffrey. MacDonald, James Stuart (Jimmy) (1878-1952), Australian Dictionary of Biography. National Centre of Biography, Australian National University. Published in hard copy 1986, accessed online 31 January 2013.
Related Entries
Was the Author of these Books
Contributed to these Books
Wrote Inscriptions in these Books
Was a Member of these Organisations
Digital Resources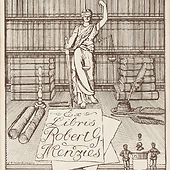 Title

Book-plate, Robert G. Menzies

Type

Image