Book

Commonwealth Arbitration Acts and Rules [1934]
Book-plate

Yes

Location

1.4
Details
Includes stamp: 'Robert G. Menzies Barrister at Law' [faded].
Heavily annotated in blank ink with notes on legal cases (mainly CLRs and VLRs); some underlining.
Includes two loose pages of notes. One, probably not Menzies' hand, reads: 'in my opinion we should [illegible] ourselves - you [?] in particular - until the matter develops.' the other reads, in pencil in Menzies' hand in capital letters: 'You will no doubt second and follow Fadden.' Underneath, in ink in the same hand as the other leaf: ' I prefer that one of our statesmen should follow the man who follows Fadden'.
Related Entries
Digital Resources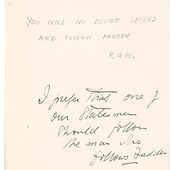 Title

'You will no doubt second and follow Fadden'

Type

Document