Book

The Government of the British Empire (1918)

Jenks, Edward
Book-plate

Yes

Menzies Location

Study (13c)

Location

8.1
Summary
Inscription: 14 May 1918.
Details
Inscribed in black on front endpaper: 'From Frank, London 14/5/18'. Also stamped on front endpaper: 'ROBERT G. MENZIES, Barrister-at-Law'. Signed on front endpaper: 'Robert G. Menzies, 1918'.
Includes three loose pages of pencil notes e.g. 'YET OUR TROUBLES ARISE FROM INDIVIDUAL [underlined] FAILURE… WE HAND OVER THINKING TO OTHERS… WE HAND OVER POLITICS TO OTHERS'.
Some pencil notes on back endpaper listing 'Parts of the Empire'.
Related Entries
Inscribed by
Digital Resources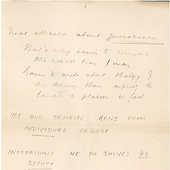 Title

'Yet our troubles arise from individual failure'

Type

Document